Welcome to Camborn White Suffolk & Poll Dorset Stud
---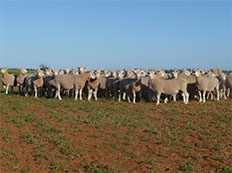 The Camborn White Suffolk Stud was established by Roger Wilkinson in 1997. Since then, Roger has continued to add strong solid rams every year from top breeders throughout Australia. Selecting rams that can work and survive in our harsh rangeland conditions, we aim to produce a hardy, fat lamb with plenty of shape and nice tight skin - best for producing premium suckers.
The Poll Dorset stud was established in 2008. Again, this breed is well known for being tough and hardy with a strong body. The stud produces high quality tough rams that produce high percentages of premium suckers every year.
Camborn Station is situated on the Darling River 80 kilometres north of Wentworth, NSW - know as the South Western district of NSW.
The stud is within the OJD Western Division bio security area.
All rams are Brucellosis tested, Footrot free, Vaccinated, Drenched & Zapped.
About
---
The Camborn White Suffolk Stud was commenced in 1997 after the purchase of 1 ram and 33 ewes from Ian Turner of Kangaroo Island at the Foundation Breeders Sale in Tailem Bend, SA.
Over the years, we have continually added quality rams and ewes from all over the country.
With the goal in mind to produce a hardy, fat lamb, there was also an emphasis put on rams that could work and survive in our harsh Rangeland conditions, ranging from extreme heat in summer to cold, dry spells in winter.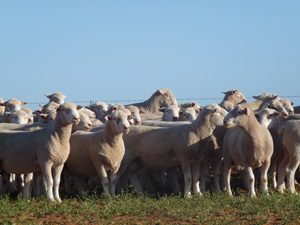 The introduction of Poll Dorsets to the stud came about in 2008 with the purchase of rams and ewes from the Allendale stud.
This breed was found to be considerably tough and able to cope with the conditions of the region. They were also able to fill the gap in our area by providing a hardy ram that could produce a fast growing, high yielding and early maturing lamb with a highly sought after carcass.
In 2013, Camborn had the opportunity to purchase the majority of the well known Ascot Stud, owned by Bill Hethertington.
The Camborn Stud is now an integral part of our farming enterprise, a along with wool, lamb production, wheat and cattle. Roger and Lyn run the property along with Roger's son Mark who is the fifth generation of Wilkinsons to run Camborn.
Success
---
We pride ourselves on our consistent track record for producing quality rams from our strong ewe base which is the backbone of our stud.
Our rams have been raised in Rangeland conditions which has made them resilient and able to adapt to our most extreme conditions.
With many return clients, we feel we are producing an ideal sheep for today's producers.
New Genetics in 2019
---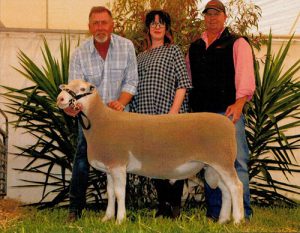 We recently purchased Detpa Grove Ram DG 170591 for $26,000. We are excited about the new genetics this ram will bring to our Stud in 2019.
Our Partnership with Mini Jumbuk
---
We have teamed up with leading wool bedding brand Mini Jumbuk to create a limited edition wool quilt to raise funds to support Australian drought relief efforts.
>> Visit Mini Jumbuk to learn more
Prefix List
---
>> Click here to view our current White Suffolk Prefix List